Sometimes the keto diet can be a tricky one to navigate, but it doesn't have to be! There are so many good options, substitutes and recipes to try. You won't run out of ideas here at KetoKeto.
We wanted to share a meal plan, including breakfast, lunch, dinner and dessert that keeps you in ketosis and keeps you satisfied.
Of course you don't have to cook all of these meals in one day. A lot of our breakfasts and desserts last a few days to a week. As well as yummy lunch and dinner leftovers. Or maybe you're having a cooking marathon kind of day.
Either way here is what a perfect day of keto looks like for us. 
Breakfast
Breakfast to many is the most important meal of the day, but for some a heavy meal first thing in the morning is a bit too much to handle. We have the perfect thing... a nutritious breakfast smoothie. Combining frozen mixed berries and leafy green spinach makes for the perfect combo and gives you a great start to the day. So why not try our simple recipe to boost your day?
Lunch
There are so many lunch options we love but one that always comes out on top are these delicious cheesy egg stuffed peppers. Peppers and cheese have never not tasted amazing together. We love to add egg to this popular combo for extra protein and to help fill us up. 
We have included our favourite ingredients for this dish but you can add as many of your favourite keto friendly ingredients as you wish. You can add some mushrooms and even some chicken - the options are endless.  
Dinner
Dinner is my favourite meal of the day. Maybe it's because I'm more relaxed and can spend a bit more time in the kitchen.  
This tasty low carb aubergine curry is made with Indian spices, low carb vegetables and a creamy coconut broth, perfect for a healthy keto meal along with being vegan friendly. 
This veggie curry is a great one to cook in bulk as it can stay up to 2-3 months in a freezer and not more than 3-4 days in a refrigerator. You'll be able to enjoy your tasty creation throughout the months!
Dessert
Last but not least is dessert.
After a day of cheffing it up in the kitchen you deserve a good sweet treat. Not that these other meals haven't been a treat already. But sometimes something sweet just hits the spot.
Dessert is sometimes another thing that can feel a bit more restrictive on the keto diet but we have the perfect solution for all you keto lovers. 
This recipe will require some ahead of time thinking and prep. It will need two hours to chill and set in the fridge. Make it in the afternoon ready for dinner or in the evening for the next day. If you forgot about prepping for today's dessert then don't worry! We've got you covered with these vegan lemon and poppy seed cookies that only take 12 minutes in the oven.
Here is the heavenly dessert we promised you... No-bake Banana and Peanut Butter Chocolate bars
We hope you enjoyed out selection of recipes with an insight to a good day of our tasty keto eating. Hopefully you are inspired and full of ideas ready to take on the kitchen and the world! 🌎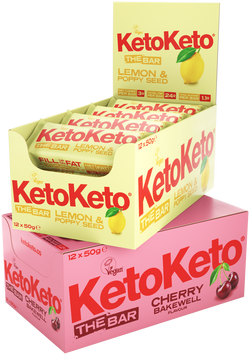 The KetoKeto Box Combo
Our bars are made to help curb cravings and keep you fuller for longer. With only 3g of net carbs per bar, they're the perfect Keto snack for anytime during the day.
Save more when you buy more, by taking advantage of our Box Combo deal. Pick your favourite flavours or try a new flavour for a change.
Shop Now