Why we created KetoKeto and why we believe our Keto snacks are the solution to many of our Keto problems
KetoKeto is made by people just like you.
People who are doing life whilst trying to eat right. People who know how tough it can be to lose weight. People who know the uncomfortable feelings that come with eating too many grains and too much sugar.
For us, following a keto or low-carb lifestyle simply works. But that's not to say we don't have kryptonite too. No matter how much we feel "on it" we too experience those cravings just like you. The cravings for something sweet, the cravings for cake… the cravings for crisps!
In 2020 we founded KetoKeto to help people who have those same cravings. To give them a go-to snack that helps them keep on track day to day. A bar that's empty of sugar, low in carbs and high in good fats! A bar that not only tastes amazing, but fills you up and helps cut those sugar cravings in the process. Crunch Puffs to help ease our founder's addiction to crisps and to bring some crunch back into his life.
The list of benefits goes on. All our products are vegan. Our bars are handmade in the UK with fresh ingredients. Our Crunch Puffs are gluten-free, low in calories and high in protein. And of course, all our products are low in that big thing we are all keeping an eye on; carbs.
We hope our products do for you what they did for us; keep us on track and help us to reach our goals. We're with you for the journey.
How it all started… the launch of KetoKeto
In early 2018 we set out to make something that hadn't been done before, especially not here in the UK. Tired of trying to conjure up Keto brownies in our kitchens and with a shortfall of Keto snacks to choose from we decided to take on the challenge to make one.
The goal was to make something genuine. Something that worked.
A Keto Bar that fitted the following criteria:
High in Fat! On Purpose.
Low in Net Carbohydrates. Perfect for Keto.
Plant Based.
No sugar, no maltitol, no soya.
For our bars, the high in fat aspect was extremely important to us. It was almost like a secret code for anyone doing Keto. We knew, for people who understood Keto, having a bar high in fat would be a true sign we knew what we were talking about.
But the development of our bar wasn't easy. What we expected to take 3 months took nearly two years. Refusing to give way to all the ingredients that would have helped make the process easier we continued to go back to the kitchen and trial new recipes until we got it right.
It wasn't easy. Without dates and fruit (not keto!) our bars wouldn't stick together and without other ingredients we had issues with it lasting more than 3 weeks once in the wrapper.
What came out of the process was truly amazing. A Keto Bar that was like no other. A unique biscuity cake like texture that filled you up and helped you cut cravings. Our own secret recipe.
We couldn't be more proud.
We launched with two flavours and now have five. For the 20,000+ customers we have, every flavour is a favourite and every flavour plays a different part in helping them stay Keto.
Just look at what people say about our products.
We knew we had nailed it with our Keto bars when we began to read the reviews and see our customers come back for more. Now we have nearly 1000 people in the UK subscribe & save, receiving a box or two of bars every month, to help keep their Keto Snack drawer nice and stocked up.
These bars are great! So tasty and great for on the go! And at 3g of carbs have helped me stick to a Keto diet.

Laura Beck

I've tried all of the varieties of ketoketo bars- not sure which is my favorite as I go through phases of preferring one then the other. All bars are tasty and satisfying. They don't taste synthetic or artificial like Some other brands, easy to stay on Keto track with them on the go.

Kelley Peeling

Great for my Keto lifestyle and allows me to keep my fat intake high without having a high amount of carbs. The bars are great for a breakfast on the go. I'd highly recommend giving them a try.

Colleen Llloyd
If you are new to KetoKeto bars…
If you are new to KetoKeto bars, we created the mix box just for you. It gives you the chance to try all five delicious flavours to see which one might be your favourite.
Or if you have a flavour or two you like the look of, check out the Box Combo Product.
The Bar Combo Product
Pick your favourite flavours and save when you buy more than one box
Less than 3g net carbs per bar
High in Healthy Fats
Super filling
Shop Flavours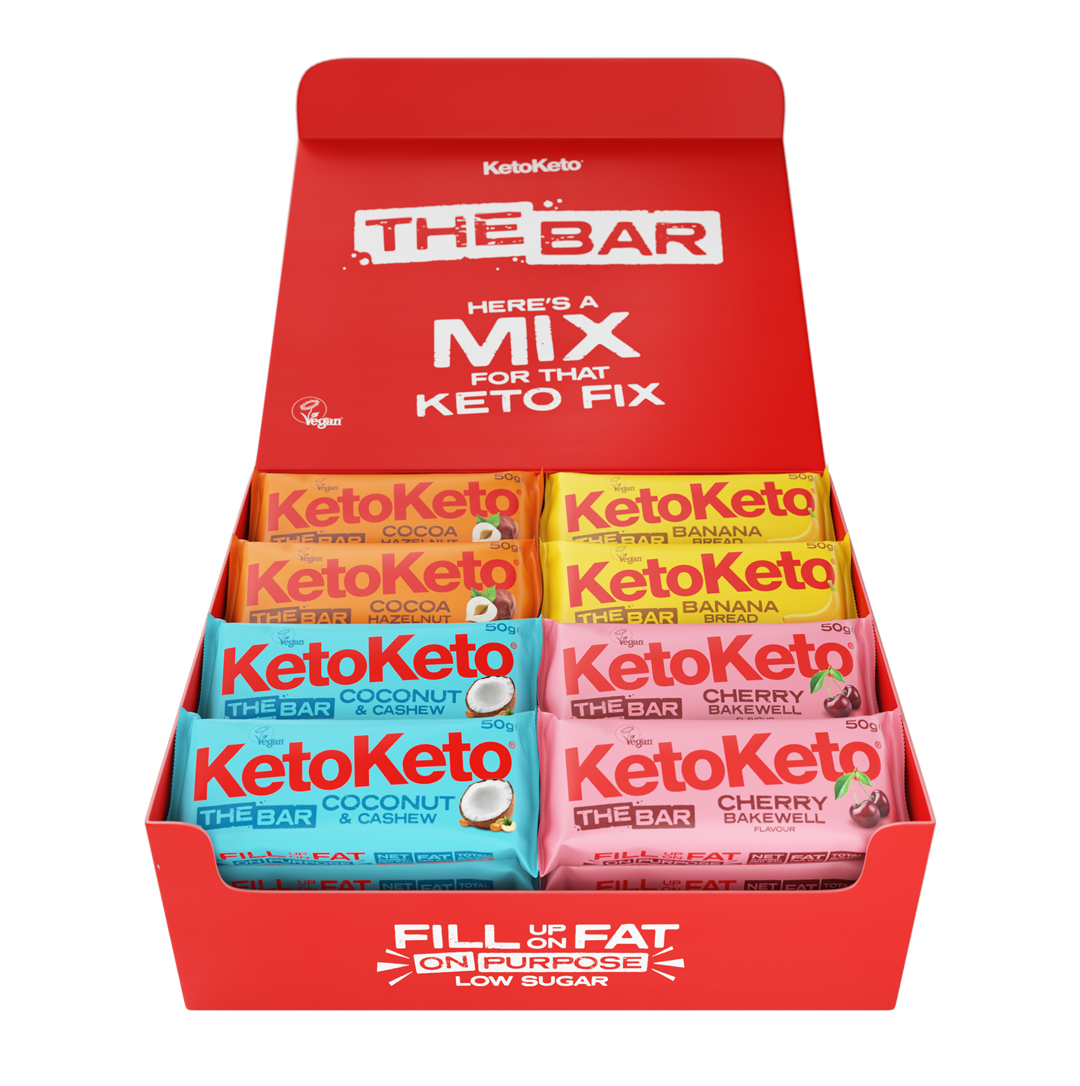 The Bar Mix Box (24)
24 x 50g Keto Bars. All five flavours
Less than 3g net carbs per bar
High in Healthy Fats
Super filling
A new Keto Snack - The Crunch Puff Keto Crisp.
In October 2021, after another 9 months of hard work behind the scenes we launched an entirely new Keto Snack, our Keto Crunch Puffs.
I don't know about you, but growing up, I loved crisps. Couldn't get enough of them. And it always seems to be that the food we have available to us on the Keto diet is more soft and chewy than crunchy.
We set out to make a Keto Crisp that was low in net carbs and plant-based. In the process we were surprised to find that our Keto crisps came with many other added benefits.
Low in Calories
High in Protein
High in Fibre
Gluten Free
Available in 80g share bags our Keto Crunch Puffs are a sigh of relief for everyone with those crispy crunch cravings. Available in a mix box as well as single flavours, we guarantee this could be the best and biggest red box you will ever receive in the mail.
The future of KetoKeto
KetoKeto is still in its infancy. We continue to work hard to develop new Keto Snack products and help people all round the UK and EU to snack better and stay on track.
The future is bright for us. We have been listed in some very big supermarkets here in the UK and EU and when the time is right and we finally hit the shelves we will be able to share that information with all our customers. Then it will be easy to grab your favourite Keto Bar and not let that busy schedule get the best of you.
Where now?
Want to give our bars a try? Or keen to learn more about the Keto diet, it's benefits and how to get started. Here's some useful links to help you find your way.