Every now and then we all need something to help give us that kick start to get going again. To build up some momentum - a streak if you want to call it that, days or weeks in the bank whereby you have been living how you always intended. Eating right, exercising and seeing yourself become your best self.
Whether you have done it before or not, a Keto approach to eating is an effective way to kick start you into losing weight and reaching your goals. If you have never heard of it, the keto diet is a diet that gets your body into a state of ketosis, where it burns fats instead of carbohydrates as a source of fuel.
It is known for having very low levels of carbs, adequate amounts of protein, whilst sourcing most of your daily calories from fat.
Some people approach Keto very strictly and very measured. Some however like to adopt a low-carb, high fat approach to eating without so much measuring. The benefits are not only the likelihood of dropping into Ketosis, but also the benefits of sustained insulin levels in the body, no energy spikes and slumps from high amounts of carbohydrates and refined foods and finally, the fact that high fat also makes you feel fuller faster and for longer.
We crafted this 30 day Keto Challenge to guide you with exactly what to do for 30 days to look and feel better. The guide has over 20 meal plans to choose and varying levels of difficulty for those needing to ease themselves into this a little more gently than others.
Our aim is for this challenge to be attainable and sustainable. It might not be easy, but remember; nothing great comes easy and we know that the results it gives you will be great.
Ready to start?
Download the 30 day Keto Challenge
Completely free.
Detailed weekly meal plans.
Different levels of approach; beginner, intermediate and advanced.
Over 24 recipes for breakfast, lunch and dinner.
Discover exact daily macros to maximise weight loss.
How our Keto Challenge has helped others
It's been so useful to have this challenge. Helped me get back on track after our holiday this summer. The meal plans are great and its good to know exactly how much and what to eat each day.
Sarah Shaw
Have thoroughly enjoyed following along with this Keto Challenge. Not only has it helped me lose several pounds, its given me the edge I needed to stay consistent for the months after.
Rachel Price
Some snacks to help during the challenge
Not only perfect for an afternoon snack that fills you up, but also works within your macros during the challenge. The mix box gives you the chance to try all five delicious flavours to see which one might be your favourite.
Or if you have a flavour or two you like the look of, check out the Box Combo Product.
The Bar Combo Product
Pick your favourite flavours and save when you buy more than one box
Less than 3g net carbs per bar
High in Healthy Fats
Super filling
Shop Flavours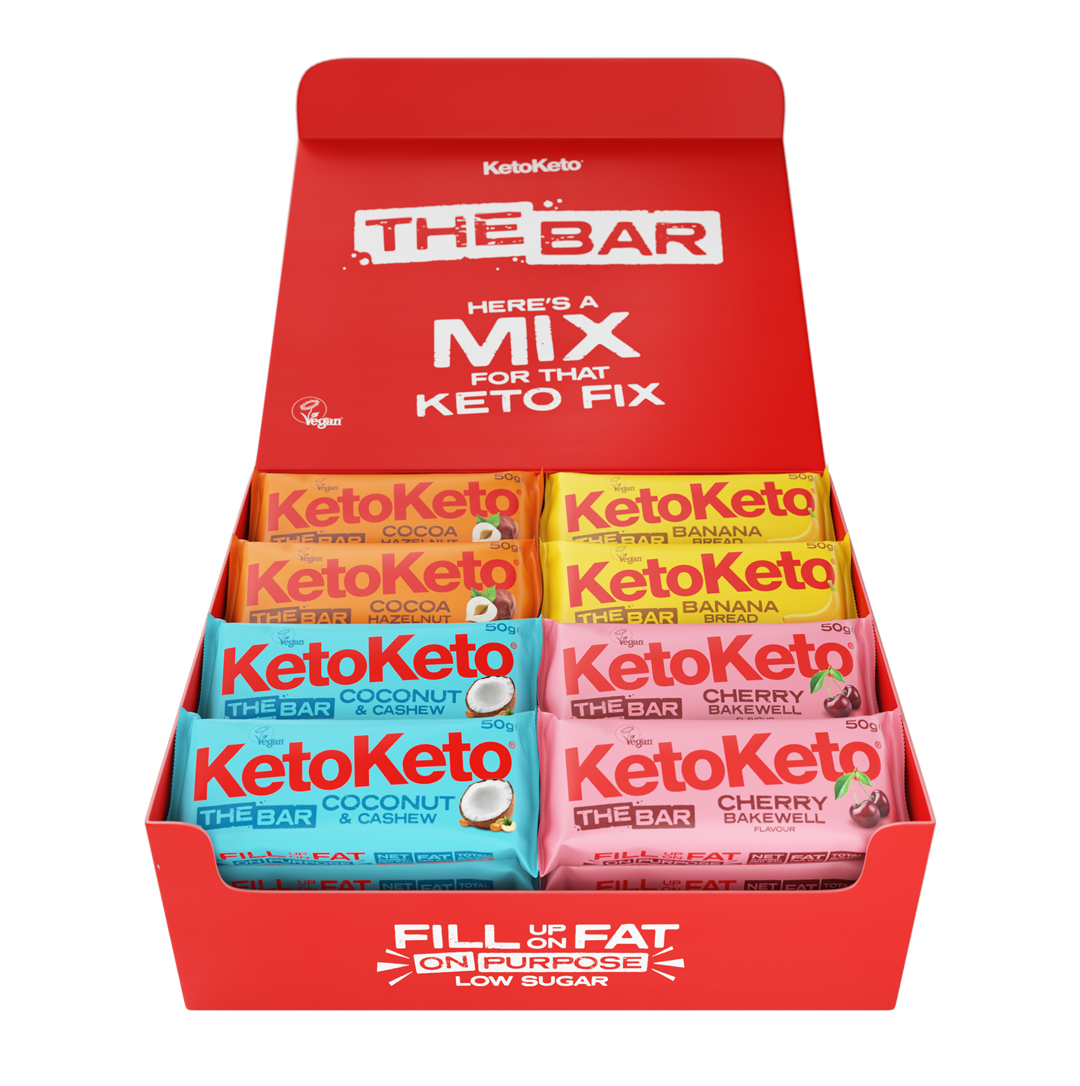 The Bar Mix Box (24)
24 x 50g Keto Bars. All five flavours
Less than 3g net carbs per bar
High in Healthy Fats
Super filling
Other useful resources relating to the Keto Challenge
If you are about to embark on the Keto Challenge, here's some useful links to help you find your way. Reading around the subject of Keto throughout the month will help inspire you and keep you focused each day.