A nutritious and refreshing smoothie is perfect for breakfast or a summer afternoon. This keto and vegan friendly smoothie is so simple to make with only a few ingredients and steps to follow before you're sitting back and sipping up all the yummy goodness.
Which berries should I use?
Mixed frozen berries are a popular choice for our favourite smoothie. In the summer we go for the summer berries; strawberries, blackberries, redcurrants, blackcurrants, blueberries and raspberries. In the autumn months we go for the black forrest fruits; cherries, blackberries, blackcurrants and grapes, for a more seasonal flavour. 
All of these berries are pack full of nutrients. They contain a great number of antioxidants that can help you body defend cells against diseases and infection. Berries contain key vitamins and minerals and are also high in fiber. Fiber is an important nutrient most people do not eat sufficiently in their diet so this smoothie will help up your fiber intake.
And of course, we add berries not just because they are nutritious but they are also delicious!
Why should i add spinach?
Spinach along with other dark and leafy greens are beneficial for skin, hair, and bone health. They also provide protein, iron, vitamins, and minerals. Spinach is considered a superfood for the many benefits it gives our bodies. So we are sure to add spinach leaves in our smoothies. 
Here is the recipe...
Ingredients:
100g mixed frozen berries
200ml coconut milk
Large handful spinach leaves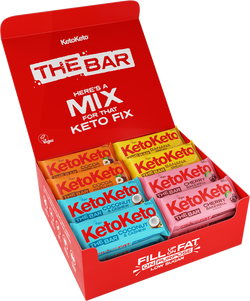 The KetoKeto Mix Box
If you are new to KetoKeto bars, we created the mix box just for you. It gives you the chance to experience all five delicious flavours. Each bar is full of healthy fats and has less than 3g of net carbs. The perfect "fill you up" snack to help curb those cravings.
Shop Now
Method:
Place the berries into a blender cup, then the spinach leaves, then pour in the coconut milk.
Blend well until everything has broken down and you have a smoothie texture.
Pour into a glass and enjoy straight away!
Tips
Our favourite thing is to double or triple up our batches so that we can have another tomorrow. You can add a some lemon juice to your smoothie to help prevent oxidation. Store in an air tight glass in the fridge for 2-3 days, or in the freezer for up to 3 months. Defrost, shake and enjoy.