The KetoKeto Bar is a Keto Bar like no other.
No seriously. We guarantee It's like no other Keto bar or health bar you have ever tasted.
Our company KetoKeto all started because of our bar. We worked tirelessly in our kitchen to create a Keto bar because we felt there wasn't anything else out there that really hit the spot. Unlike many, we didn't take an already formulated protein bar, or health bar and re-jig it to make it Keto. We started from scratch.
Our objectives were to create a bar that was:
We also knew that if we got these things right, those ingredients and benefits combined with creating a bar that was more filling, more satisfying and would really help people stick to Keto when needing that sweet fix.
Why is this Keto Bar so good?
The big reasons:
Ingredients.
And even better, it's handmade here in the UK.
We made the decision early on, not to cut corners with our Keto bar. Its biggest base ingredient is almonds, the 3rd most expensive nut in the world and very effective for ketosis. Alongside cashews and hazelnuts, we use flaxseed and coconuts. All big mix of nuts and seeds all cooked up to make a tasty Keto cake.
To make them sweet, our bars contain Erythritol and Xylitol, two of the most recommended sweeteners for the Keto diet. In fact Erythritol is so good, studies have shown that it shows next to no impact on blood sugars level when eaten.

And, what's missing? Well, firstly we have no soy or soya in our bars. Our bars do not contain Malitol, a common hidden nastie in many protein bars claiming low sugar content.
When to eat KetoKeto bars?
Our bars are very filling.
That's why we recommend having them as either a snack, to keep you going through till your next meal or if you are utilizing fasting within your Keto regime, have them as a meal replacement or a high-fat kick after breaking fast.
Many of our customers find our bars are extremely helpful in helping them curb the cravings for sugar or something sweet and many share with us experiences of how these bars have helped them get through the tempting times and not give up on their Keto plans.
Here's what people have been saying:
These bars are great! So tasty and great for on the go! And at 3g of carbs have helped me stick to a Keto diet.
Laura Beck
I've tried all of the varieties of ketoketo bars- not sure which is my favorite as I go through phases of preferring one then the other. All bars are tasty and satisfying. They don't taste synthetic or artificial like Some other brands, easy to stay on Keto track with them on the go.
Kelley Peeling
Great for my Keto lifestyle and allows me to keep my fat intake high without having a high amount of carbs. The bars are great for a breakfast on the go. I'd highly recommend giving them a try.
Colleen Llloyd
If you are new to KetoKeto bars…
If you are new to KetoKeto bars, we created the mix box just for you. It gives you the chance to try all five delicious flavours to see which one might be your favourite.
Or if you have a flavour or two you like the look of, check out the Box Combo Product.
The Bar Combo Product
Pick your favourite flavours and save when you buy more than one box
Less than 3g net carbs per bar
High in Healthy Fats
Super filling
Shop Flavours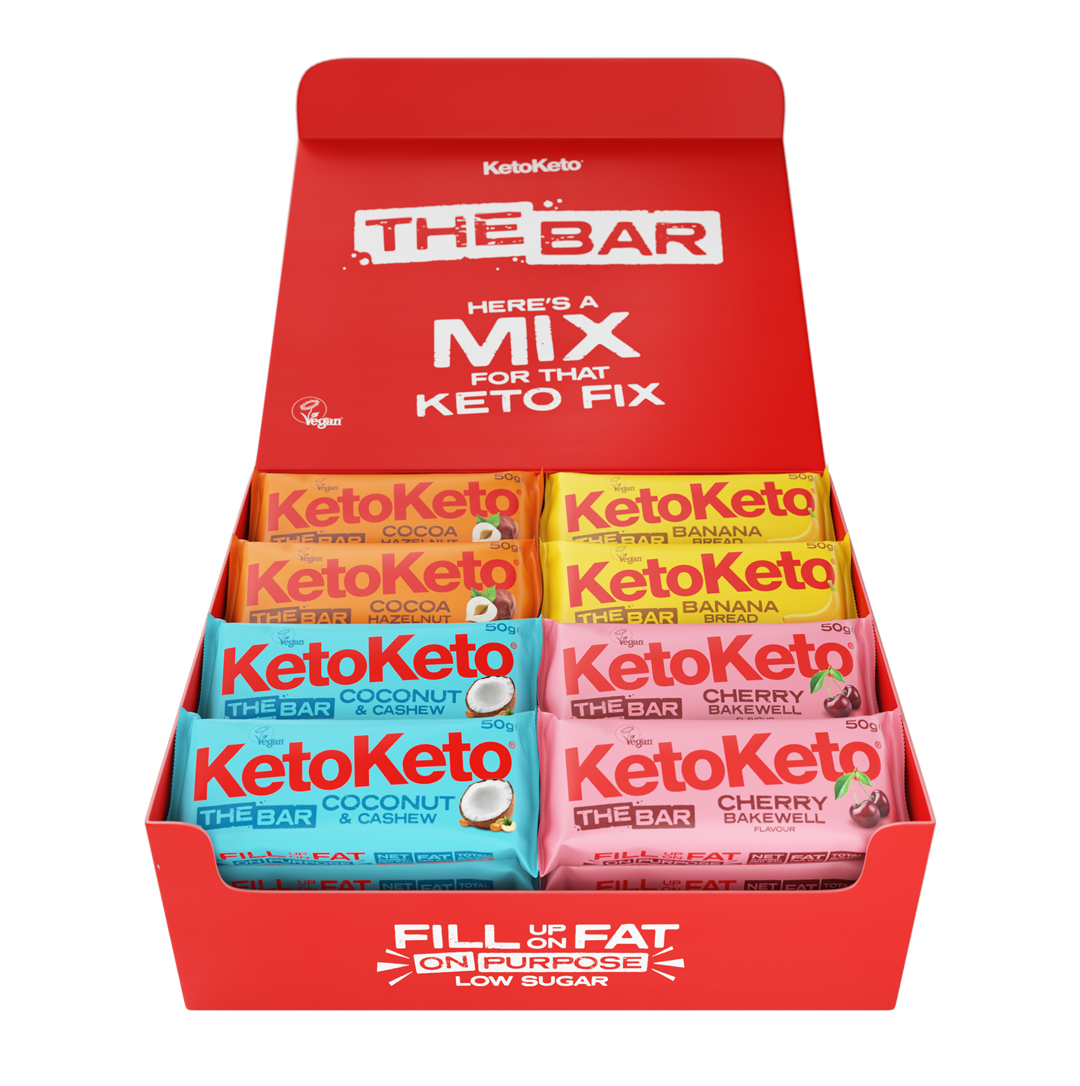 The Bar Mix Box (24)
24 x 50g Keto Bars. All five flavours
Less than 3g net carbs per bar
High in Healthy Fats
Super filling
Other ways to eat our Keto Bars.
It's becoming a little bit of a trending topic amongst the Keto community here in the UK. That is, how our bars can be used in so many more ways than just straight of the wrapper. They make a great base for a Keto cheesecake, or for Keto brownies.
We've even created some Keto dessert recipes of our own and you can see the collection here. You also get access to our dessert recipe book when you buy a mix box of Keto bars.
So if you love to conjure up Keto recipes, you might just be our next Keto chef highlight on instagram. Be sure to share your recipes and tag us @eatketoketo.
Where now?
Want to give our bars a try? Or keen to learn more about the Keto diet, it's benefits and how to get started. Here's some useful links to help you find your way.