A melt in your mouth recipe perfect for the keto diet with its high fat and low carb content. If mozzarella, chicken and bacon isn't the best combination I don't know what is! This recipe is perfect for a home cooked meal or adjust it slightly if you want something different in your barbecues this summer.
Let's get straight to the recipe.
Ingredients:
2 x chicken breasts
1-2 teaspoons paprika/Cajun seasoning 
4 x slices bacon, smoked or unsmoked
1 x ball Mozzarella, sliced
1 tomato, sliced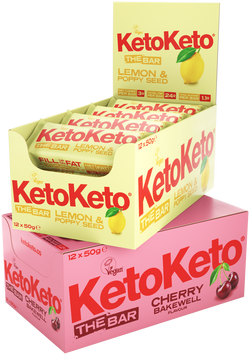 The KetoKeto Box Combo
Our bars are made to help curb cravings and keep you fuller for longer. With only 3g of net carbs per bar, they're the perfect Keto snack for anytime during the day.
Save more when you buy more, by taking advantage of our Box Combo deal. Pick your favourite flavours or try a new flavour for a change.
Shop Now
Make them!
Preheat the oven to 190C and have 2 large pieces of foil ready.
Place each chicken breast in a sealed see-through bag then add the seasoning or paprika and smother it around. Bash them with a rolling pin to flatten down slightly.
Make a slit in each across the side. Add a couple of tomato slices then Mozzarella. Wrap 2 x bacon rashers around each then place on the foil. Place on a baking tray then bake for 25-30 minutes until golden and cooked through. Then serve! 
Tips and Suggestions
Prepare this ahead of time if you need to save some prep time. Stuff the chicken and wrap it in bacon, cover and store in the refrigerator for up to 8 hours before cooking time.
Do not use thick cut bacon for this recipe, as it will take longer to get crispy in the oven.
If you want to put these chicken fillets on the barbecue for a more authentic smokey flavour, slice the chicken the lightly beat it with a mallet. This will make the chicken thinner and will allow the meat to cook more evenly. Prepare the rest of the recipe as usual.