Pizza is a food that everyone loves; the chewy, doughy texture, the tang of tomato sauce and the unbelievably moreish melted cheese and toppings. Add to that - easy to prepare and quick to cook, and it's a winner for mealtimes.
Except pizza is high carb, and therefore despite being a much loved meal, it's off limits for those following the Keto diet.  Before you ponder whether you can realistically live without pizza, there are alternatives to the traditional high-carb pizza dough.
Many great kitchen maestros have done their thing and experimented with various Keto-friendly ingredients, and a low-carb Keto pizza base is possible; without special ingredients or a mammoth cooking session!
Why You Should Make Your Own Keto Pizza Base
Nobody wants to spend hours searching store shelves for mysterious ingredients, or preparing alternative meals in the kitchen. 
Particular diets can sometimes cause extra expense and time to prepare healthy meals that meet your dietary requirements.  But it doesn't need to be difficult or blow your budget; you really don't need special ingredients to make yourself nutritious meals that meet your macros.
If you've begun to eat Keto-style, you've no doubt removed high-carb ingredients from your cupboards.  Now you simply need to find easy alternatives.  Finding the right alternatives can sometimes be a challenge if you're looking for a direct replacement - Keto pizza is one of them.
A Keto-friendly pizza must be low-carb and ideally high-fat, which can seem impossible to find in stores.  Many special dietary foods such as 'free from gluten' ranges are still high in carbs as they use other high-carb flours such as rice flour or potato flakes.  Ready-made pizzas are also topped with sugar-full sauces and toppings, which would kick you out of Ketosis with one small slice.
When you make your own Keto pizza base you can keep it perfectly Keto from the base to the delicious toppings; for all the enjoyment without any of the guilt.
The Keto Pizza Base Recipe
This simple recipe uses only a few basic ingredients, without yeast or rising time - to help you put pizza back on your table without the faff. You can easily add in additional flavour with garlic or herbs and of course top with your favourite Keto-wise toppings.
The Ingredients
¾ Cup Fine Almond Flour
2 Cups Grated Mozzarella
2 tbsp Cream Cheese
¼ tsp Sea Salt
Handy Utensils
Large Saucepan
Two large sheets of baking paper (big enough to cover a 12'' pizza)
Rolling pin
Pizza pan or large baking tray
The Instructions
Preheat your oven to 425°F/220°C
In a large saucepan, mix together all the ingredients: almond flour, mozzarella cheese, cream cheese and sea salt.
Place the pan on a low heat.  Stir constantly until the cheese melts and the mixture becomes a dough-like consistency.
Take the pizza dough from the pan and place onto a large piece of baking paper.  Shape into a ball.
Cover the dough with a second large piece of baking paper, and with the rolling pin, roll out to a 12'' circle.
Remove the top piece of baking paper.  Transfer the pizza dough base onto the pizza pan or large baking tray.
With a fork, gently poke holes into the pizza base.
Place the pizza base in the centre of the preheated oven.
Bake for 6-8 minutes, or until golden in colour.  Watch carefully as the base can cook quickly and easily burn.
If you prefer a crispy pizza base, you can flip the base and return to the oven for a further 3-5 mins.
Once cooked to your liking, remove from the oven and allow to cool for 5-10 minutes.
Meanwhile, turn the oven temperature down to 350°F/175°C.  This is a good time to prepare your toppings.
After 5-10 minutes, place your chosen sauce and toppings onto your Keto pizza base, and bake for another 5-8 minutes at the reduced oven temperature.
Remove from the oven and allow to cool slightly. 
Cut your Keto pizza into slices and enjoy!
Keep Pizza Toppings Keto
Making your own Keto pizza base is a fantastic idea, but it's only one part of the pizza; you also need to include Keto-friendly toppings to keep it low-carb.  There are many variations of ingredients you can try, to give you a taste sensation that will be sure to compete with any traditional pizza; so you're not left feeling like you're missing out.
Pizza Sauce
Many pre-made sauces are high in sugar and therefore not Keto-compatible, it's best to avoid all processed sauces unless you can be sure they're low in carbs.  Instead, you can easily make or use natural ingredients to create a delicious pizza sauce that's completely Keto. 
Tomatoes are very low in carbs and a brilliant option for your pizza sauce as long as there's no added sugar.  You could opt for a plain and simple spread of pure tomato puree atop your Keto pizza base.  Or cook up a batch of tomato sauce in minutes that you can store for months in the freezer - ready for any Keto pizza meal when you want it.  A carton of plain passata, flavoured with herbs and garlic is a yummy low-carb option.
Low-Carb Veggies
Not all vegetables are low-carb, a good rule of thumb when considering which vegetables are low-carb is whether they grow above or below ground.  Vegetables that grow below ground, such as potatoes, carrots, and other root veggies tend to be high-carb.  Whereas vegetables that grow above ground are more likely to be low-carb, think broccoli, spinach and kale.
Some tasty toppings for your pizza could include:
Spinach
Asparagus
Green or Black Olives
Tomatoes
Broccoli
Courgette
Kale
Mushrooms
Just be sure to only use unprocessed vegetables in their natural form.  Some vegetables such as olives can be stored with additives or sugars that make them unsuitable for Keto. 
A combination of any of these veggies alongside a sauce and melted cheese atop your Keto pizza base will be mouth-wateringly good.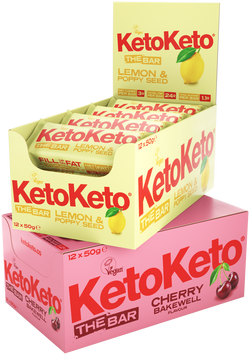 The KetoKeto Box Combo
Our bars are made to help curb cravings and keep you fuller for longer. With only 3g of net carbs per bar, they're the perfect Keto snack for anytime during the day.
Save more when you buy more, by taking advantage of our Box Combo deal. Pick your favourite flavours or try a new flavour for a change.
Shop Now
Moreish Meat
Many if not all pre-made pizzas include processed meats such as pepperoni that can be high in carbs.  By making your own Keto pizza, you can make sure every ingredient is Keto-friendly and delicious.
Roasted beef, chicken or pork - the best quality you can afford, with some seasoning; can be shredded and placed upon your Keto pizza for a delicious feast of a pizza.  Good quality mince can also be easily cooked in a pan or the oven and sprinkled upon your pizza alongside your other Keto-wise toppings.  Any of these meats will add depth of flavour and beneficial fats and protein to your Keto pizza.
Have Your Pizza And Eat It
Ready-made Keto pizzas are difficult to find.  Even if you happen to discover a premade Keto pizza base, the toppings are likely to be high-carb with a sugary sauce and processed meats.  The best option to put pizza back on your table, is to make your own Keto pizza base and add your own favourite pizza toppings. 
It's a no-brainer; making your own Keto pizza is affordable, easy and tasty.  Once you've got the knack for making your own Keto pizza dough, you can store batches in your freezer for up to 3 months, so you only need to make it from scratch every now and then - the perfect quick meal solution.
Pizza night is back - yes you can have your pizza and eat it!