The scrumptious puds are packed with flavour and mouth melting goodness.
Chocolate and banana is the perfect combination for me so I couldn't recommend this recipe enough. It's great for all the family and dinner guests to enjoy! 
Ingredients:
3 x Keto Keto Banana Bread bars
50g almond flour
30g sweetener (erythritol)
10g cocoa powder
1 teaspoon baking powder
50g dark chocolate (plus 4 extra squares for decoration)
4 tablespoons coconut oil
1 egg
1 teaspoon vanilla extract
1 small banana, sliced into 4 pieces
Get making!
Preheat the oven to 180C and lightly grease 4 individual ramekin dishes and place on a baking tray. Place the Keto bars in a blender and pulse until broken down. Add in the almond flour, sweetener, cocoa powder and baking powder.
Melt the dark chocolate with the coconut oil and leave to cool for 5 minutes. Pour into the blender with the eggs and vanilla and pulse again until you have a smooth batter.
Divide this between the ramekins to fill to the top. Add 1 banana slice in the middle of each. Break the remaining pieces of chocolate up and arrange some on top of each, pushing into the mixture. Bake for 15-20 minutes until risen. Enjoy hot or cold.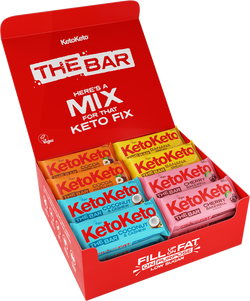 The KetoKeto Mix Box
If you are new to KetoKeto bars, we created the mix box just for you. It gives you the chance to experience all five delicious flavours. Each bar is full of healthy fats and has less than 3g of net carbs. The perfect "fill you up" snack to help curb those cravings.
Shop Now