Who ever said the keto diet had to be boring? These Cheesy Keto Meatballs are mouth watering and taste just like what you use to eat before going keto - except less carb! More goodness for your body with just as much if not more flavour. Pair it with your favourite salad and voila!
Ingredients:
For the meatballs - 
1 x 500g pack minced beef
1 teaspoon garlic granules
1 teaspoon paprika or smoked paprika
1 teaspoon mixed herbs
Salt & black pepper
60g Mozzarella, cut into cubes
For the sauce - 
1 tablespoon oil
1 onion, chopped
1 teaspoon garlic granules
1 x can chopped tomatoes
1 teaspoon oregano
2 tablespoons chopped fresh parsley
Method:
Mix together the beef, garlic, paprika, herbs and seasoning in a bowl.
Divide into about 12 pieces and wrap each one around a Mozzarella piece and form a bowl.
Add to a non-stick pan and cook for 10 minutes, 5 minutes on each side then turn around. Transfer to a plate.
Add the oil, onions and garlic to the pan and cook for 5 minutes. Pour in the chopped tomatoes and oregano and simmer for 10-15 minutes until a thick sauce has formed.
Return the meatballs to the pan, heat through then serve with a salad on the side.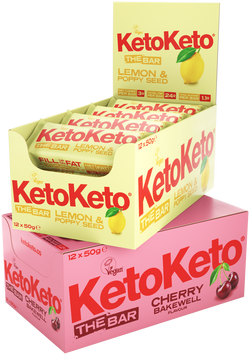 The KetoKeto Box Combo
Our bars are made to help curb cravings and keep you fuller for longer. With only 3g of net carbs per bar, they're the perfect Keto snack for anytime during the day.
Save more when you buy more, by taking advantage of our Box Combo deal. Pick your favourite flavours or try a new flavour for a change.
Shop Now