Another great keto friendly dessert. Put a spin on the classic cheesecake with a banana bread flavoured crumbly base. Add your favourite berries for that extra bit of sweetness.
Ingredients:
For the base:
3 x Keto Keto Banana Bread Bars
1 tablespoon coconut oil, melted
2 tablespoons nut butter
For the filling:
300g cream cheese
40g sweetener (erythritol)
1 teaspoon vanilla extract
50g frozen berries
Get making!
First make the bases - Pulse the Keto bars in a food processor until broken down then add the coconut oil and nut butter. Pulse again until the mixture comes together then press between a 6-hole muffin tin (fill up to ⅓ then press down).
Blend the cream cheese, sweetener and vanilla until smooth and combined then pour over each base to fill the top. Scatter over some berries over each then freeze for 2 hours.
Pop out and enjoy!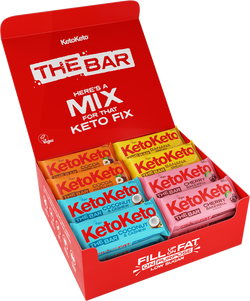 The KetoKeto Mix Box
If you are new to KetoKeto bars, we created the mix box just for you. It gives you the chance to experience all five delicious flavours. Each bar is full of healthy fats and has less than 3g of net carbs. The perfect "fill you up" snack to help curb those cravings.
Shop Now