What is shakshuka?
Shakshuka is a simple dish made of gently poached eggs in a delicious chunky tomato and bell pepper sauce. It is said to have originated in Tunisia, and is a popular breakfast recipe in many parts of North Africa and the Middle East. It is a lot lesser known here in the UK but is well worth the try and it might soon become your go-to. These keto friendly ingredients make it a welcome breakfast, lunch or dinner for followers of the keto diet.
Ingredients:
1 tablespoon oil
2 spring onions, chopped
2 peppers, sliced
1 small courgette, diced
6 mushrooms, thinly sliced
2 cloves garlic, crushed
1 teaspoon smoked paprika
1 x carton passata
2 eggs
50g feta cheese, crumbled
2 tablespoons chopped fresh parsley
Make it!
Heat the oil in a non-stick pan and add the onions, peppers, courgette, mushrooms and garlic and cook on a medium heat for 8-10 minutes until softening.
Add in the smoked paprika and stir well, then pour in the passata. Continue cooking for 10 more minutes.
Transfer to an ovenproof dish and spread out the mixture. Make space for 2 eggs and crack them in, then sprinkle over the feta. 
Bake at 180C for 25 minutes until golden and the eggs have set. Sprinkle over the parsley and enjoy hot or cold.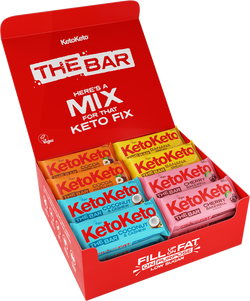 The KetoKeto Mix Box
If you are new to KetoKeto bars, we created the mix box just for you. It gives you the chance to experience all five delicious flavours. Each bar is full of healthy fats and has less than 3g of net carbs. The perfect "fill you up" snack to help curb those cravings.
Shop Now