This colorful slaw combines these vibrant vegetables and smooth tahini to make the perfect flavour. We like to cut our veg up quite chunky as we like the extra crunch you get there. Top it off with some air fried tofu for a lovely vegan and keto friendly dish.
Ingredients:
1 red cabbage, sliced
1 reed pepper, thinly sliced
2 carrots, grated
100g tofu, cut into chunks
For the glaze:
2 tablespoons rice vinegar
Juice of 2 limes or lemons
1 teaspoon ginger
1 teaspoon garlic granules
2 tablespoons chopped parsley
1 tablespoons smooth nut butter or tahini
Salt and black pepper
Make it!
Place all of the vegetables in a large bowl or salad bowl.
For the tofu, sprinkle over some salt and black pepper and air fry the chunks for 8 minutes, or oven bake at 180C for 12-15 minutes until golden and crispy.
Whisk together the glaze ingredients. Add the tofu to the bowl of veggies then pour over the glaze and mix well together. Then serve out and enjoy!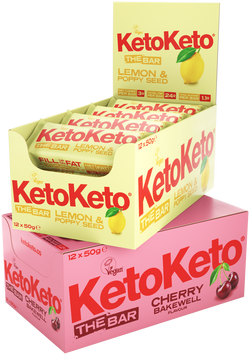 The KetoKeto Box Combo
Our bars are made to help curb cravings and keep you fuller for longer. With only 3g of net carbs per bar, they're the perfect Keto snack for anytime during the day.
Save more when you buy more, by taking advantage of our Box Combo deal. Pick your favourite flavours or try a new flavour for a change.
Shop Now