A great autumnal tart with a coconutty twist. This keto friendly version is just as simple to make as the classic version and will go down a treat with your friends and family.
Ingredients:
For the tart case
 4 x Keto Keto Coconut & Cashew Bars
 2 tablespoons tahini or other nut butter
 2 tablespoons melted coconut oil
For the pumpkin filling
 200g cooked pumpkin
 200g soft cheese
 30g sweetener (erythritol)
 2 eggs, beaten
 2 tablespoons coconut flour
 1 teaspoon cinnamon
 1 teaspoon ginger
 Pinch of nutmeg
 1 teaspoon vanilla extract
 Pecan pieces, to decorate
Get making!
First make the tart case: Blend the Keto keto bars until broken down then add in the nut butter and melted oil. Pulse again until the mixture comes together.
Press into a greased 20cm loose-bottomed round cake or tart tin, up the sides and across the bottom Leave while you make the filling.
Place the cooked pumpkin, soft cheese, sweetener, eggs, coconut flour, spices and vanilla and blend until smooth.
Pour this over the tart case then bake at 170C for 30 minutes until golden and firmed up. Leave to cool then pop in the fridge for 1 hour before slicing and serving up.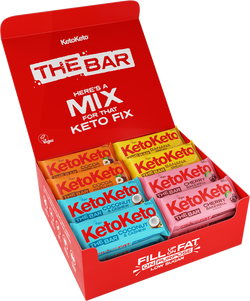 The KetoKeto Mix Box
If you are new to KetoKeto bars, we created the mix box just for you. It gives you the chance to experience all five delicious flavours. Each bar is full of healthy fats and has less than 3g of net carbs. The perfect "fill you up" snack to help curb those cravings.
Shop Now