Now is the time to try your favourite Mexican cuisine whilst on the keto diet. Taco filing ingredients are typically keto friendly but we have taken our most loved vegetation ingredients to create this delicious taco recipe. Using lettuce leaves instead of the usual taco shell is a sure guarantee for keto success. 
Ingredients:
½ head of cauliflower, broken into florets
1 tablespoon oil
1 teaspoon garlic powder
1 teaspoon paprika
1 teaspoon Cajun spices
Salt and black pepper
To serve -
Romaine lettuce leaves
Roasted red pepper slices
Avocado slices
Cucumber pieces
For the yogurt sauce -
150g Greek yogurt
Dash of lemon juice
2 tablespoons fresh parsley 
Seasoning
Make it!
First make the cauliflower - Mix together the florets with the oil, spices and seasoning in a bowl. Tip onto a roasting tray and roast for 20 minutes at 200C, or air fry for 12 minutes until golden.
Mix together the ingredients for the sauce then chill until needed.
When ready to serve, arrange some lettuce leaves on a plate. Add a few of the florets, pepper and avocado slices and cucumber pieces onto each then spoon some sauce over. Enjoy!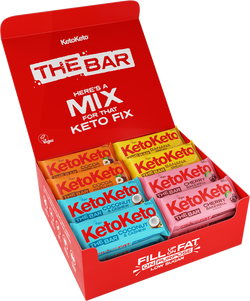 The KetoKeto Mix Box
If you are new to KetoKeto bars, we created the mix box just for you. It gives you the chance to experience all five delicious flavours. Each bar is full of healthy fats and has less than 3g of net carbs. The perfect "fill you up" snack to help curb those cravings.
Shop Now