Two of my favourite savoury keto ingredients are bacon and broccoli. Add some almond flakes for another layer of flavour and crunch and we have a winning comfort dish.
Ingredients:
1 head broccoli, cut into florets
1 red onion, diced
3-4 bacon rashers, cooked until crisp then sliced up
4 tablespoons flaked almonds
3 tablespoons mayonnaise
1 ½ teaspoons apple cider vinegar 
Salt and pepper, to taste
Make it!
Steam the broccoli florets then drain until cooled and dry. Tip into a bowl.
Add in the diced onion and cooked, sliced up bacon. 
Whisk together the mayonnaise with the vinegar and seasoning to taste.
Spoon this over the bowl or broccoli then mix well until fully combined. Sprinkle over the almonds - then enjoy.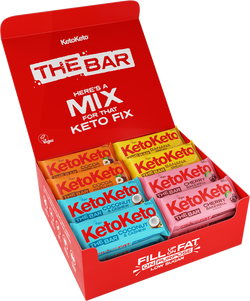 The KetoKeto Mix Box
If you are new to KetoKeto bars, we created the mix box just for you. It gives you the chance to experience all five delicious flavours. Each bar is full of healthy fats and has less than 3g of net carbs. The perfect "fill you up" snack to help curb those cravings.
Shop Now