Fat bombs are the perfect option for a pre or post-workout snack or just a snack to give you a boost between meals. They're the perfect thing for those of us on keto as we want high fat and low carb, and this is great for helping to balance out low blood sugar.
They are so high in fat and low in protein that they will help you burn more fat for fuel and stay in ketosis. We love the addition of coating them in chocolate to make them that little bit extra special.
Ingredients:
 3 x Keto Keto Coconut & Cashew Bars
 50g desiccated coconut
 50g coconut flour
 2 tablespoons melted coconut oil
 2 tablespoons tahini
 1 teaspoon vanilla extract
 75g dark chocolate
Get making!
 Place the bars in a food processor and pulse until broken down.
 Add in the coconut, coconut flour, oil, tahini and vanilla and pulse again until the mixture comes together.
 Divide the mixture into 12 pieces and roll into balls. Melt the chocolate and dip each one in to cover. Place on a lined tray, sprinkle with coconut and chill in the fridge for 1 hour - then enjoy!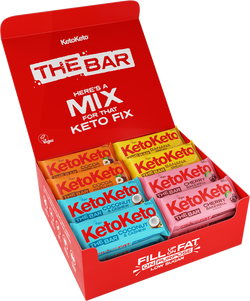 The KetoKeto Mix Box
If you are new to KetoKeto bars, we created the mix box just for you. It gives you the chance to experience all five delicious flavours. Each bar is full of healthy fats and has less than 3g of net carbs. The perfect "fill you up" snack to help curb those cravings.
Shop Now