If you enjoy our cherry bakewell bars you are sure to enjoy these taste packed cherry bakewell pots. Keto snacks can never get boring. 
Along with the cherry bakewell taste from our bars we couldn't resist adding some fresh cherries on top. They ones were bought at the market then simmered until they became soft and juicy.  
Using these glass seal storage jars are not only a really nice way of displaying them, they help keep your desserts fresh if you make them ahead of time or make to last a few days in the fridge. You could even pack it for your next picnic!
Let's get to the recipe...
Ingredients:
For the base and topping 
 2 x KetoKeto Cherry Bakewell Bars, crumbled up
 3 tablespoons ground almonds
 2 tablespoons melted coconut oil
For the filling
 1 x carton silken tofu
 30g sweetener (erythritol)
 ½ teaspoon almond extract
 ½ teaspoon vanilla extract
For the cherry jam
 150g frozen cherries
 4 tablespoons sweetener (erythritol)
 3 tablespoons chia seeds
Get making!
First make the base and topping: Place ingredients into a blender and pulse until broken down and a crumb forms. Spoon ⅔ of this between 4 small individual transparent dessert pots or ramekin dishes.
Next place the filling ingredients into a blender and whizz up until thick and smooth. Divide this between the pots, filling up to ⅔ to the top.
Place the cherries in a pan with a splash of water then simmer for 8-10 minutes until soft and the juices are running. Remove from the heat, stir in the sweetener and chia seeds and mash up well. Set aside for 20 minutes to cool and thicken up.
Spoon the cherry jam between the pots to fill just to the top of each.
Scatter over the remaining crumb and chill in the fridge for at least 1 hour before serving Enjoy!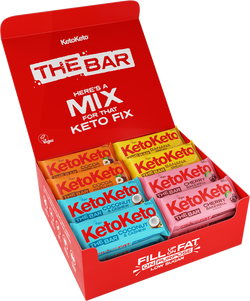 The KetoKeto Mix Box
If you are new to KetoKeto bars, we created the mix box just for you. It gives you the chance to experience all five delicious flavours. Each bar is full of healthy fats and has less than 3g of net carbs. The perfect "fill you up" snack to help curb those cravings.
Shop Now