This creamy vegan curried cauliflower soup with coconut milk, is infused with Indian spices, ginger and lime. It's so simple to make and is also healthy and delicious. We, here at KetoKeto love this recipe so we're sure you will too!
Ingredients:
1 tablespoon oil
1 onion, diced
2 cloves garlic, crushed - or 1 teaspoon garlic granules 
1 red or green chilli, de-seeded and diced (optional)
1 teaspoon coriander
1 teaspoon ground ginger
Head of 1 cauliflower, cut into small florets
1 vegetable stock cube dissolved in 200ml boiling water
400ml can coconut milk
Juice of 1 lime
2 tablespoons fresh coriander leaves, chopped
Greek yogurt, pumpkin seeds to garnish
Make it!
Heat the oil in a large pan and add the onion, garlic, chilli and spices and cook for 5 minutes, stirring well to coat.
Add in the cauliflower and continue cooking for a few minutes, then add in the stock cube and simmer for 10 minutes.
Pour in the coconut milk and continue cooking for a further 10 minutes until the cauliflower is soft.
Allow to cool a little then stir in the lime juice and fresh coriander. Tip into a blender or food processor and blend well until you have the desired consistency.
Serve hot with some Greek yogurt, sprinkle over pumpkin seeds and enjoy!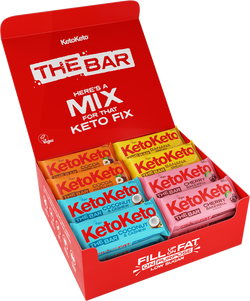 The KetoKeto Mix Box
If you are new to KetoKeto bars, we created the mix box just for you. It gives you the chance to experience all five delicious flavours. Each bar is full of healthy fats and has less than 3g of net carbs. The perfect "fill you up" snack to help curb those cravings.
Shop Now