The perfect keto and vegan lunch. It's light but guaranteed to fill you up with these nutritious ingredients. Bring the colour back to lunch!
Ingredients:
½ cauliflower, sliced in the middle for 'steak' shapes
1 tablespoon oil
1 teaspoon smoked paprika
Salt and black pepper
For the salsa:
1 red pepper and 1 yellow pepper, de-seeded and sliced
1 teaspoon oil
100g olives, sliced
1 tablespoon fresh parsley, chopped
1 teaspoon cider vinegar
2 tablespoons pine nuts
Salt and black pepper
Make it!
Mix together the cauliflower, oil, spices and seasoning in a bowl so everything is well coated. Place on a lined baking tray, spread out.
Mix the peppers with the oil then arrange around the cauliflower. Bake at 180C for 15-20 minutes until softened and going slightly browned.
Once the peppers have cooled a little, chop into smaller pieces and mix together with the olives, parsley, vinegar, pine nuts and seasoning.
Serve the cauliflower steaks onto a plate then spoon over some of the salsa. Enjoy!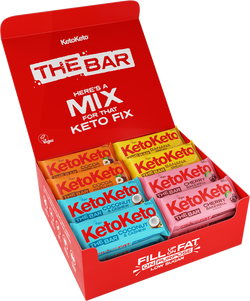 The KetoKeto Mix Box
If you are new to KetoKeto bars, we created the mix box just for you. It gives you the chance to experience all five delicious flavours. Each bar is full of healthy fats and has less than 3g of net carbs. The perfect "fill you up" snack to help curb those cravings.
Shop Now