We have another great keto and vegan friendly meal for you. This tofu scramble is the perfect substitute for scrambled eggs, plus your favourite ingredients to brighten it up. Don't forget these key spices and seasonings that pack a punch.  
Ingredients:
200g firm tofu, drained and crumbled
1 teaspoon garlic powder
1 teaspoon smoked or normal paprika
½ teaspoon turmeric (optional)
Salt and black pepper
1 tablespoon oil
1 yellow pepper, sliced
100g mushrooms, sliced
1-2 tomatoes, chopped
2 spring onions, chopped
Large handful spinach leaves
3 tablespoons chopped parsley
Make it!
Mix together the crumbled tofu with the garlic powder, paprika, turmeric and seasoning in a bowl.
Heat the oil in a pan and add the tofu. Cook on a medium head for a few minutes until starting to turn golden.
Add in the pepper, mushrooms, tomatoes and spring onions and cook for 6-7 minutes until the vegetables have softened.
Throw in the spinach leaves and chopped parsley last minute then serve hot.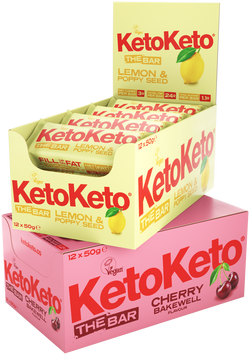 The KetoKeto Box Combo
Our bars are made to help curb cravings and keep you fuller for longer. With only 3g of net carbs per bar, they're the perfect Keto snack for anytime during the day.
Save more when you buy more, by taking advantage of our Box Combo deal. Pick your favourite flavours or try a new flavour for a change.
Shop Now