Goats cheese is the perfect pair for baked cod with its tangy taste and crumbly texture. Pair it with some fresh vegetables and you have a lovely, nutritious keto friendly meal.
Ingredients:
2 x cod fillets
2 teaspoons pesto
100g garlic & herb goat's cheese, slice up
50g cherry tomatoes, halved 
Salad leaves
Make it!
Place each cod fillet in the middle of a large sheet of foil, with the corners folded over.
Spread 1 teaspoon of pesto over each one, then place a couple of slices of goat's cheese on top. Scatter over a few halved cherry tomatoes, then fold up the corners to cover.
Bake at 180C for 20 minutes until golden - then enjoy, served with salad on the side.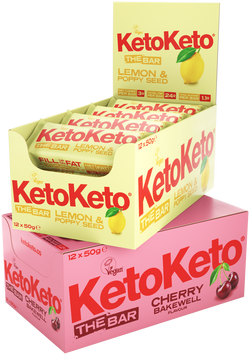 The KetoKeto Box Combo
Our bars are made to help curb cravings and keep you fuller for longer. With only 3g of net carbs per bar, they're the perfect Keto snack for anytime during the day.
Save more when you buy more, by taking advantage of our Box Combo deal. Pick your favourite flavours or try a new flavour for a change.
Shop Now