These beautiful tarts are such a treat with the combination of a rich chocolatey base, a sweet vanilla filling and fresh blueberries. Not to mention the amazing combination of textures that make it even more enjoyable. 
To make it look even more scrumtious we have added these dried blue cornflower petals. Not only do they add an elegant and floral touch but they also give an extra flavour. Blue cornflowers have a mild pepper aroma, and a subtle hint of sweet spice. 
Of course this is optional and you can always add your favourite toppings.
Ingredients:
For the tartlet cases:
4 x Keto Keto Chocolate Hazelnut Bars
3 tablespoons cocoa powder
3 tablespoons coconut oil, melted
For the filling:
200ml thick cream
3 tablespoons sweetener (erythritol)
4 tablespoons Greek yogurt
2 tablespoons coconut flour
1 teaspoon vanilla extract
Fresh blueberries, to serve
Get making!
Place the Keto Keto bars, cocoa powder oil into a blender and blend until broken down and the mixture comes together.
Press between 4 individual mini tartlet tins and push up the sides and across the base of each to cover. Place in the fridge.
Next place the cream in a bowl and whip up until thickened. Add in the sweetener, yogurt, coconut flour and vanilla and whip again until combined.
Spread this mixture between the tartlet tins to fill each one and smooth out. Place some blueberries on top, chill in the fridge for 1 hour - then enjoy!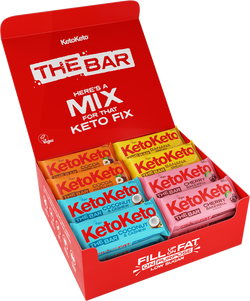 The KetoKeto Mix Box
If you are new to KetoKeto bars, we created the mix box just for you. It gives you the chance to experience all five delicious flavours. Each bar is full of healthy fats and has less than 3g of net carbs. The perfect "fill you up" snack to help curb those cravings.
Shop Now