These delicious chocolate strawberry muffins are keto friendly and are sure to become your favourite breakfast option. With a spin on the ingredients compared to non keto recipes it makes for a more rich muffin with an interesting new flavour that will leave you wanting to make more. This is a treat that the kids will love or for your guests at a fun lunch or party.
Let's get to the recipe.
Ingredients:
250g almond flour
40g cocoa powder
50g erythritol
1 teaspoon cinnamon
1 teaspoon baking powder
200g pumpkin puree
2 eggs, beaten
30-50ml coconut milk (if needed)
1 teaspoon vanilla extract
75g frozen raspberries
40g dark chocolate chips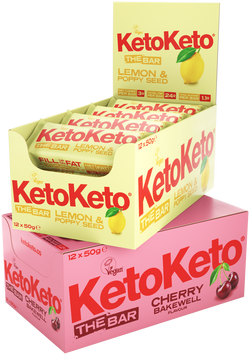 The KetoKeto Box Combo
Our bars are made to help curb cravings and keep you fuller for longer. With only 3g of net carbs per bar, they're the perfect Keto snack for anytime during the day.
Save more when you buy more, by taking advantage of our Box Combo deal. Pick your favourite flavours or try a new flavour for a change.
Shop Now
Method:
Preheat the oven to 180C and line a 6-hole muffin tin with paper cases.
Mix together the flour, cocoa powder, erythritol, cinnamon and baking powder in a bowl.
Add the pumpkin puree, eggs and vanilla (and milk if needed, if the mixture is too thick) and mix well to form a batter.
Fold in the raspberries and chocolate chips, then divide the mixture between the muffin cases to fill.
Bake for 25 minutes until risen and firmed up. Leave to cool, then enjoy!
Keep in an airtight container in the fridge for up to 3 days.