I have loved making these keto friendly donuts so much. They are such a good texture and eating a donut never felt more healthy whilst still so delicious! They're not your average donut that's for sure but if your up for being a bit adventurous and trying something new then this is the recipe for you.
We have added some nuts and extra cinnamon to the top for decoration and extra flavour but add whatever makes your heart happy - so long as it's keto friendly 😉
Ingredients:
4 x Keto Keto Banana Bread Bars
50g coconut flour
50g almond flour
50g sweetener (erythritol)
1 teaspoon cinnamon
100ml melted butter or coconut oil
3 eggs
1 teaspoon vanilla extract
For the glaze:
200g full fat cream cheese
4 tablespoons sweetener (erythritol)
2 tablespoons coconut flour
Teaspoon cinnamon
Chopped nuts and flaked almonds, to decorate
Get making!
Preheat the oven and lightly grease a 6-hole donut tin (silicone is best).
Place the Keto bars in a blender or food processor and whizz up until crumbled up.
Add in the flours, sweetener, cinnamon, oil, eggs and vanilla and blend again until combined into a thick batter.
Divide between the donut holes to fill the top and bake for 15-20 minutes until golden and firm. Leave to cool in the tin then place onto a wire rack.
Beat together the cream cheese, sweetener, coconut flour and cinnamon then spread over the top of each donut.
Sprinkle over nuts and flaked almonds, sprinkle over a little extra cinnamon and enjoy!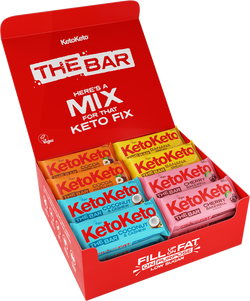 The KetoKeto Mix Box
If you are new to KetoKeto bars, we created the mix box just for you. It gives you the chance to experience all five delicious flavours. Each bar is full of healthy fats and has less than 3g of net carbs. The perfect "fill you up" snack to help curb those cravings.
Shop Now