Are you worried about the rising cost of food? Do you need to know how to keep on track with Keto without blowing your budget?
With the 'cost of living crisis' becoming a daily news bulletin, we're all thinking of new ways to stay within our means; cutting back where possible and not splurging on too many wants.
It's true that buying healthy whole foods such as those encouraged by the Ketogenic diet can be more expensive. They're real ingredients, after all, grown and nurtured by real people. Such foods are nutrient-dense and high quality, which can be reflected in their price.
Are you wondering how you can stay on track with Keto and save yourself some money at the same time? Then we have some fresh tips to help you…
Is Keto Expensive?
If you're thinking of going Keto then you may be worried about the cost of changing your diet. Shifting from one way of eating to another can mean an expensive overhaul of your cupboards.
Perhaps you've been Keto for a while and are now struggling to fuel your body without breaking the bank. Maybe you're questioning if Keto is too expensive to maintain.
It doesn't have to be.
Keto, like all diets, can be expensive if you don't make smart choices or know about clever ways to get what you need for a fraction of the price.
Keto is a high-fat, moderate-protein, low-carb diet that can quickly become expensive if you only buy convenient or done-for-you meals, or if you splurge on the finest steaks or out-of-season veg. There's a place for these things, on occasion, but not every day.
There are ways to do Keto without spending a fortune.
The Cost Of Carbs
It's also important to factor in the cost of carbs. While some carb food items might seem cheap, like pasta, rice and beans, the impact on your health certainly isn't.
Remember why you decided to go Keto in the first place - to feel, look and be better. Eating carbs was costing you something. Maybe it's being overweight, battling with fatigue or struggling with fluctuating blood sugars. 
All of these issues have a huge effect on your health, well-being and quality of life. Perhaps you've had to take leave from work to tackle illness or you've missed out on opportunities because of poor health.
The price of carbs might seem cheap in comparison to some Keto ingredients, but they're costing you much more than money. They're costing you your health and your ability to live life to the full. Plus any sick days which cost you money too.
Besides, how many times did you make yourself rice and beans for dinner anyway?
How To Make Keto Cheaper
So let's get to it. How can you eat a Keto diet for less?
1. Find The Cheapest 'Keto' Store
Every food retailer differs in their prices. Some are touted as the cheapest supermarket around. But you have to question whether it's the least expensive store for you, depending on the ingredients you tend to buy.
Some stores reduce prices for convenience foods because they're popular with their customers. While other shops cut costs on vegetables or long-life items. Still, another may reduce prices for whole food items.
Visit a few stores with your Keto shopping list and discover which one is most cost-effective for you. You may be surprised to learn that armed with a Keto food list, the more popular stores are not the cheapest ones for what you need.
2. Choose Cheaper Cuts Of Meat
Meat is an integral part of the Keto diet; full of vitamins, minerals healthy fats and protein, it's an essential fuel source. But some cuts of meat are more expensive than others. Fine steaks, prepared chicken breasts and lean meats will add pounds to your food bill.  
Choose cheaper cuts of meat such as chicken thighs or drumsticks, full-fat mince or stewing steak. Leaner cuts tend to be more expensive, but you're all about the fat on Keto, so pay the cheaper price and enjoy the extra flavour! 
3. Buy In Bulk
This is true for all ingredients; the more you buy of a product the cheaper it is per quantity. If you have the space and storage, buy in bulk where possible.  
Do you have a large freezer? Then you could purchase large quantities of meat and get yourself a deal with a local butcher or fishmonger. Freeze what you buy and it will last you a long while. How about a family-sized fridge? Then go for the larger blocks of butter or the bigger chunks of cheese. You'll need fewer top-ups and it works out cheaper over a month.
Instead of paying full price for small portions of prepared meat, buy a bigger serving such as a whole large chicken, which can be cooked and divided up into many meals. Cooking a few meals' worth of meat in one go will save you energy costs too. Win-win! 
4. Stock Up On Offers
Similarly, when you see a Keto bargain, grab it with both hands and buy as much as you can afford and store! Are those Keto crisps or bars that you love on offer? Buy plenty of them now and stock up.  
It'll save you a ton of money compared to buying them at full price. You'll be able to stack them in your cupboards and have a convenient go-to snack for those occasions when you need something quick, easy and grabbable, at a smidgen of the cost!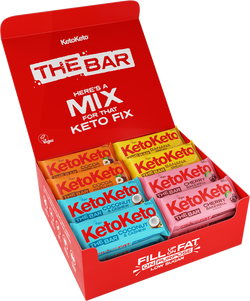 The KetoKeto Mix Box
If you are new to KetoKeto bars, we created the mix box just for you. It gives you the chance to experience all five delicious flavours. Each bar is full of healthy fats and has less than 3g of net carbs. The perfect "fill you up" snack to help curb those cravings.
Shop Now
5. Opt For Frozen
Fresh fruit and veg can be pricey, and their shelf life is very limited. Frequently throwing out-of-date food away is an expensive way to shop!
On Keto, you can eat berries and lots of vegetables. Why not buy them frozen? Their quality is just as good, they can be stored for months, and you'll usually find you get double the amount for the same price as the fresh ones. Seems like a no-brainer. 
6. Make A Meal Plan
Another brilliant way to limit waste and minimise costs is to make a meal plan. It's simple enough, just requires a little forethought. Instead of milling around store aisles and placing what you fancy in your trolley, make a plan for the week before you go.
Write a list of ingredients that you'll need and stick with it. You'll buy less and stop throwing so much food away. The result? You'll have enough food to last all week, saving you another shopping trip and wasted money.
7. Buy In Season
With a large variety of vegetables available to you on the Keto diet, be sure to check which ones are in season and go for those that are the cheapest in store. In-season veg will likely be the cheapest. 
We all know that sprouts are full of flavour and in great supply over winter. Then there are spring and autumn cabbages. Summer and winter spinach. Whatever Keto-friendly veg you're buying, get them while they're in season to help you keep your food costs down.
8. Try Tinned Items
Keto is keen on fish and a brilliant way of cutting the cost of this sometimes expensive item is to buy it tinned. Tinned sardines, tuna or salmon are a brilliant substitute if you're struggling to pay for your food shopping but want to stick with Keto.
Tinned fish lasts for what seems like forever and comes at a fraction of the price of the fresh version. The main thing is to give your body the good fats and protein it needs to stay in ketosis at a price you can afford. Who doesn't love tinned tuna anyway?
9. Buy Inexpensive Protein
Would you like to know about a really nutritious protein that is pretty cheap to buy? Eggs. They're packed with good fats, protein and vital vitamins and won't cost you much. Again, buy larger packs to reduce the cost per item.
If you need to maintain your protein supply but can't afford to buy the quantities of fish or meat you need, eggs are a fantastic alternative. An omelet or frittata makes a tasty meal that's affordable and easy to prepare.
Keto Is Affordable & Priceless
As the price for everyday items soars, it can be difficult to know where to cut back. You want to eat a Keto diet but are worried about it costing you too much. The truth is, no matter what diet you eat, it can be expensive if you don't know how to keep expenses down.
Keto is just as affordable as any other diet and importantly won't cost you poor health. By planning ahead and taking a more mindful approach to your food shopping trips, you can eat a Keto diet without blowing your budget. While also giving yourself something priceless - good health.